March 16, 2018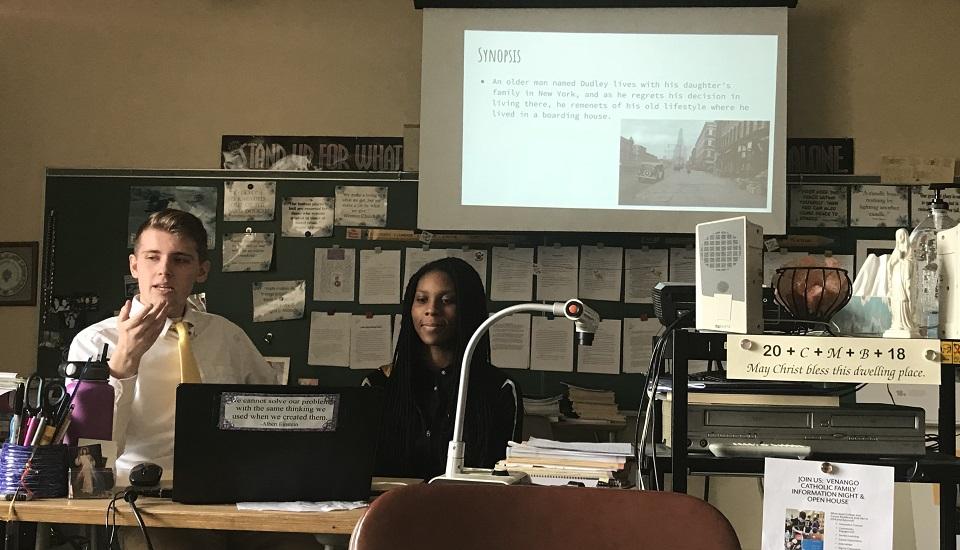 Venango Catholic High School- Oil City Deanery, Diocese of Erie
---
Lily Nwokedi
3/15/18

When I first came to Venango Catholic in ninth grade, I was unusually unintimidated. The typical freshmen in high school would be nervous about a lot of things at the start of the year, new setting, new classmates, new teachers, yet I was calm here at VC. Maybe it was the lack of work for a newcomer or how teachers went easier on us, but truly that wasn't exactly it. What really reassured me was everybody treated everyone like they mattered. Everyone seemed to care about everyone as if we were family and as a junior now I can say that this is still true. I also had so many activities and sports going on, I could get to know upperclassmen more. Venango Catholic has some of the best students here who care as well as classes and activities that completely enrich my learning experience.

One thing I can easily say about this private school is that it's hard to be bored. By the time you finish school, you got homework, sports practices, event preparing waiting for you when you leave. I personally have a couple activities I do every year including Science Olympiad and English Festival. Science Olympiad not only lets me engage with students I don't get to talk to often from my school but students from schools all across the region. At Penn State, we compete in multiple scientific events like identifying different types of rocks and fossils, doing labs to solve a crime, and testing our knowledge on satellite sensing to describe a few. While science is a great interest of mine, I have a deep appreciation for literature. English Festival is one of my favorite parts of high school. It's like all my literature classes over the years but morphed into one crazy event. We read seven books then we travel to Youngstown State University to do multiple activities like limerick writing, impromptu essays, and listening to different lecturers. I share this day with multiple other people that share the same love of reading from my school, bringing us closer together.

Classes in VC have a reputation for being the toughest, but really that's not true. You don't have to be a genius to get a good grade. You just need perseverance. Once you figure that out, you can start to enjoy the many classes you have. As I said before, I have a great love for literature so my English classes were easily one of my favorites. I take Honors American English right now and I like getting to know famous authors.

Sports can be another fun thing at VC. Even though we have a smaller sports selection here, we still bring great school spirit for our fellow classmates who do play here. Girls basketball is now a co-op sport at Rocky Grove and a handful of sports co-op with Oil City which is little harder on everyone. Even though most people may play a sport at a different school, you can still see rows of smiles cheering the boys basketball team on in the student section or when the golf team brings home a shiny trophy, we make sure to give each member credit. It's the mentality we have here. We root for each other and try our best to build each other up.

As a freshmen, people treating me with such care really dumbfounded me. It's not that I expected to be straight up ridiculed or bullied, but I didn't expect that much support. Senior girls gave me tips on my defense in basketball. Some juniors showed me how to cite properly for reports. Sophomores gave me reassurance during tough classes that it gets easier (which may have been little white lies). Like passing down the torch, I learned to treat the new people in our school with the same respect. Whether it's telling sophomores what to expect next year to reminding freshmen to always do their homework even if it's boring, I make sure to make everyone feel comfortable. I am thankful for my teachers for having patience and educating the students with their best ability. I am thankful for the my fellow students for making our community welcoming. I am thankful for my parents for allowing me to go here. I am so very thankful for the other people that make it possible for me to go to this great school with the generous grants given.