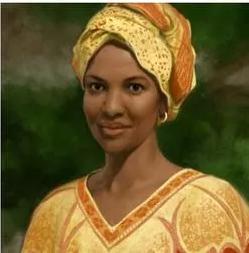 The granddaughter of a slave, Thea Bowman was born Bertha Bowman in Yazoo City, Mississippi, in 1937 to a doctor and a teacher. Though raised Protestant, she chose to become Catholic at age 9 and was moved by the kindness and generosity of the Franciscans Sisters of Perpetual Adoration, whose school she subsequently attended.
When she turned 15, she moved to Wisconsin and entered the order's novitiate. Although her parents tried to persuade their daughter to enter an African American community, she was determined to enter the Franciscan Sisters of Perpetual Adoration, whose warmth and love had drawn her to the Catholic faith six years prior. 
At the time, she was the first and only Black sister of the community in La Crosse. When she began teaching at a Catholic elementary school in La Crosse, Sister Thea would teach about racial diversity and about the importance of love. She continued to be involved in the burgeoning civil-rights movement and helped to establish the National Black Sisters Conference and advocated for an increased representation of American Americans in Church leadership. She called for more encounters between diverse groups of Catholics and for a welcoming of music from different cultural backgrounds.
Sister Thea became a noted public speaker and traveled around the country, talking about race and the Catholic faith, even after being diagnosed with breast cancer in 1984. She famously gave a speech before the U.S. bishops in 1989, speaking about her identity as an African American Catholic as a "gift to the Church."
She died on March 30, 1990. The Diocese of Jackson, Mississippi, opened her canonization cause in 2018.
---
Jonah McKeown / Catholic News Agency