May 29, 2020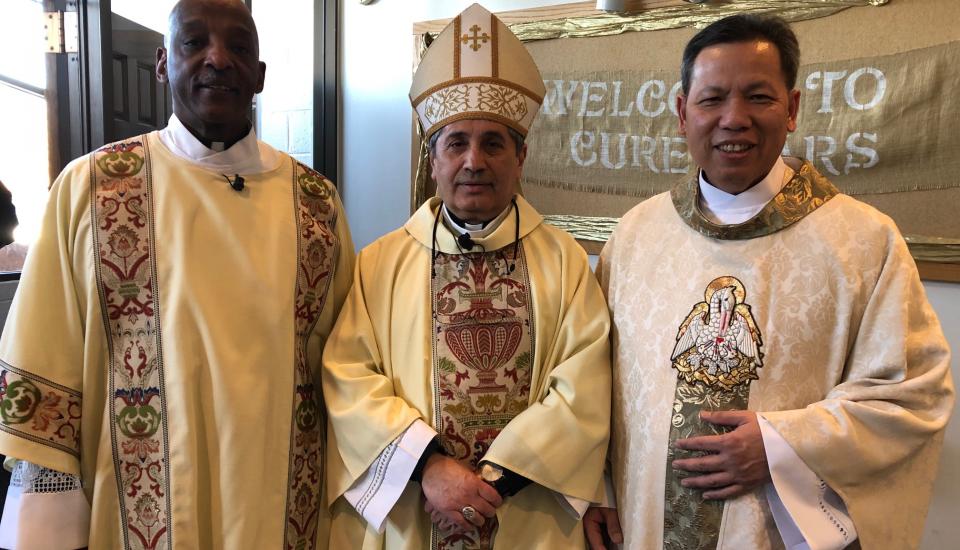 Office of Black Catholic Ministry
---
Annually, the Office of Black Catholic Ministry through the Archdiocese of Denver sponsors a Peace and Justice Mass on the anniversary of Rev. Dr. Martin Luther King Jr.'s, birthday. Heartfelt appreciation was extended to Pastor, Fr. Joseph Cao, Deacon Clarence McDavid, and the Curé d'Ars Parish Community for their hospitality with the 8th annual Eucharistic Celebration. Unique in Colorado, Curé d'Ars Parish is a multi-ethnic Catholic Christian community rooted in African-American spirituality in the heart of metropolitan Denver.

It was an honor to have Most Reverend Jorge Rodriguez, Ph.D., Auxiliary Bishop of Denver serve as the principal celebrant of this year's Mass. After Deacon Clarence read the U.S. Bishops' President, Archbishop José H. Gomez's statement that called for building the "beloved community" inspired by Rev. Dr. Martin Luther King, Jr.'s example, Bishop Rodriguez 's homily was a powerful call to action against the sins of racism. He stated, "We are all called to do something about, to work, to fight, to participate, to be pro-active until our country will be free from this national original sin – still to be wiped out from us." He concluded by declaring, "Our worship and sacrifices risk being empty before God's eyes, if we don't obey His commandment: Love One Another."

The Eucharist Celebration was invigorated by the Joyful Noise Youth Choir, directed by Lila Chase Harvey, and the church was filled with worshipers of all ages and ethnicities from across the Archdiocese. The reception prior to the Marade (march and parade) was hosted by the Knights of Peter Claver Ladies Auxiliary, Deacon Charles Bright Court #261 and was enjoyed by all.