March 08, 2019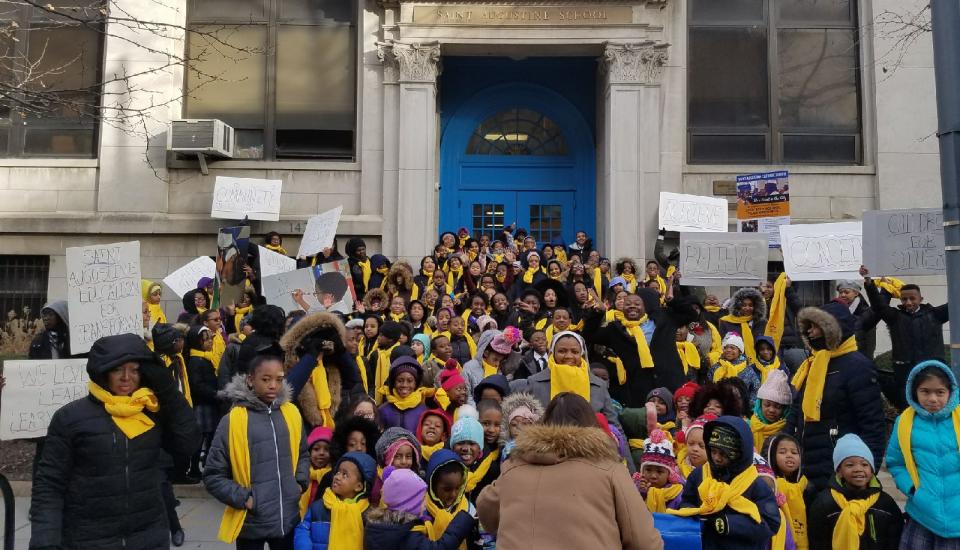 St. Augustine Catholic School
---
Catholic School's Week (Jan. 27-Feb. 2) was a tremendous success at Saint Augustine Catholic School in Washington, D.C., the second oldest parish school in the nation's capital, founded in 1858. This year's theme was Catholic Schools: Learn, Serve. Lead. Succeed.
The week kicked off with very inspirational Sunday Masses on Jan. 27. The Saint Augustine School choir sang at both the 10 am and 12:30 pm Masses, and given our strong parish support, particularly during the last 11 years, after the parish rallied to support the school when it was under threat of closure, it was appropriate to begin Catholic Schools Week focusing on the parish. Scores of Saint Augustine School families attended. "If your mind can conceive it, and your heart can believe it, then you can achieve it," our pastor, Father Patrick Smith, encouraged the congregants.
On Monday, Jan. 28, Saint Augustine students, staff, and volunteers celebrated Community Day with a morning prayer walk through the community. Later that morning, students and volunteer prepared sandwiches for individuals experiencing homelessness.
The week was filled with educational and fun filled experiences. The annual Math Bee and Spelling Bee featured Saint Augustine's best and brightest students going head to head. A wonderful Poetry Slam featured 20 student poets sharing original pieces and poetry recitals. The Poetry Slam was attended by the Archdiocese of Washington Superintendent of Schools, Mr. William Ryan.
Each class participated in grade level, team building exercises. The annual teacher/parent vs. student volleyball and basketball games were thrillers. The teachers/parents won the volleyball matches 3 games to 2. The students won the basketball game 73-72.
The week ended with a very informative and spirited Vocational Rally.