December 01, 2021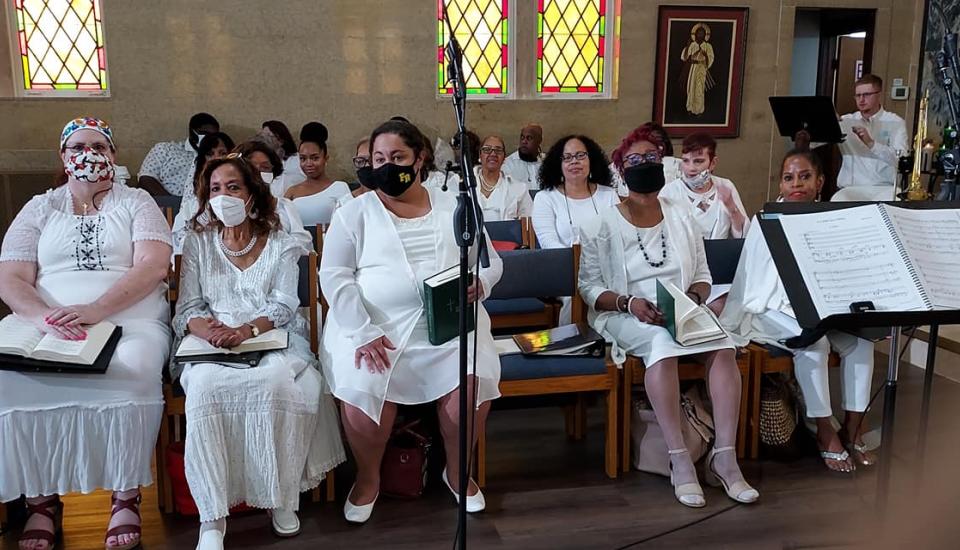 Cultural Ministries Office of Black Catholic Ministry / Native American Catholic Outreach
---
Q4 2021 – Newsflash Celebrations and Commemorations
The Office of Black Catholic Ministry held a liturgy to offer praise to God through the tradition of Jazz music. The mass was held over Labor Day weekend at St Moses the Black Parish, Detroit. The creative director and liturgist was Dr. William Harrison, the parish's music minister. A reception was held after the mass, where attendees mingled with musicians to continue the celebration.
Congratulations to the Black Metro Catholic Gospel Choir on its 10th anniversary concert, which kicks-off Black Catholic History Month (November) in Detroit. John Thorne, BMCGC founder and Director, led a group of 50+ choir members from across Detroit, in a stunning performance of traditional and contemporary Gospel music. Over 400 persons were in attendance – a sold out event! Outstanding work by John Thorne and choir!
"Across the world, paintings and stained-glass windows show the rich tradition and diversity that exists in God's kingdom. But often, those depictions don't necessarily reflect the faces of congregants in the local pews." (Detroitcatholic.com, Nov 2021). TO change that, the AOD has partnered with the Catholic Foundation of Michigan and College of Creative Studies to celebrate artwork of the diverse cultures in the Church. Kick-off event was held at St Suzanne/Our Lady Gate of Heaven Parish, Detroit. Guest presenter at the kick-off was Auxiliary Bishop Gerard Battersby.
The Native American Catholic Outreach held a Harvest Thanksgiving Ceremony Celebration at Oakwoods Metropark, New Boston, MI. Chantal Gros-Louis, AOD coordinator, said the emphasis of this event was on honoring the Three Sisters - Corn, Squash, Bean. She added that it is also the season to honor and be thankful for ancestors. One ancestor featured was Grand Chief Steve Gronda of the Wyandots of Anderdon. Ms. Gros-Louis led the group in prayer, a sharing circle, traditional song, and dance, all "in gratitude for God Creator of all there is". Special guest speaker: Jenine, daughter of Chief Steve Gronda.