May 29, 2020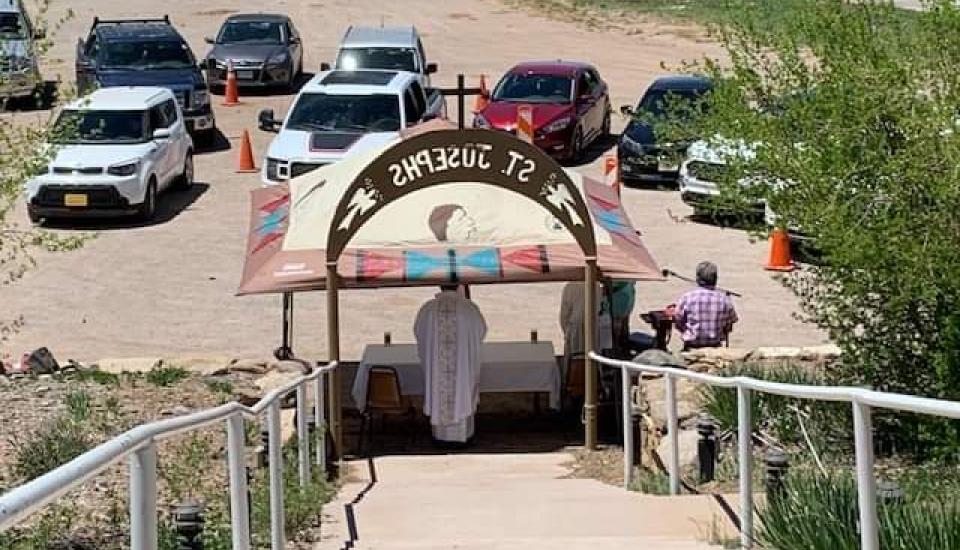 St. Joseph Apache Mission
---
Because of the Covid19 pandemic we were bound first by the Federal Government mandates, then by the Diocese of Las Cruces mandates and currently by the Tribal Government mandates. We have stopped than started and now once again stopped our religious services.
These are challenging times for everyone and we all pray for an end to this horrible virus. After weeks of no Masses we were excited to get the news from the Diocese that we could have a parking lot Mass. For three weeks Harry Vasile, Sr. Robert-Ann and Sr. Juanita coordinated the effort with Fr. Martin Cordero of the nearby parish of Ruidoso because we have no resident pastor. There were safety measures consisting of distance parking, people remained in their vehicles with windows rolled up, while the sound was audible through the car radios. When it was time for an Amen horns were honked. Communion was ministered in the hands by Eucharistic Ministers wearing gloves and masks.
Graveside Services were allowed but only 10-20 family members. This proved very difficult because on the reservation most people are related. Many families have planned on holding memorial services at a later time once the threat is over.
Tribal President Gabe Aguilar took early precautions in hopes of keeping the community safe. Up until last week the efforts were successful and then two members tested positive and the next day five more. Unfortunately we lost an elderly woman. This all happened just as the Tribe was planning on opening its popular Casino and Resort. Immediately Gabe shut down the reservation with strict stay at home orders and the reservation completely closed to nonresidents. Even with all these restrictions one of Gabe's children tested positive.
We are asking for prayers for the people of Mescalero people as we continue to pray for the tribe, country and world.