August 16, 2022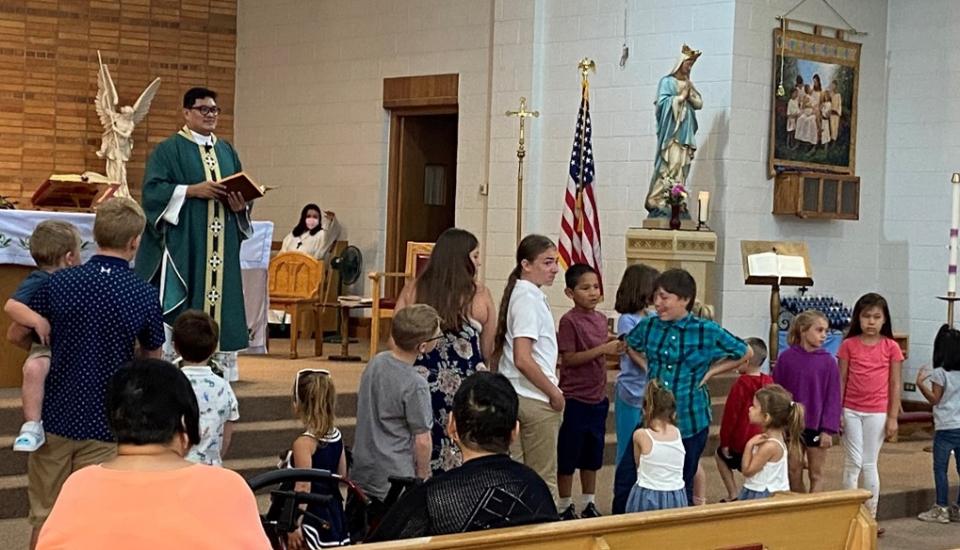 St. Michaels Parish
---
August 2022 Update
St. Michael's had our First Communion since 2019 on May 21st. With more students, a First Communion retreat is held as a full day, with only one student as we had this year, an afternoon. Both his mom and his older sister also helped and participated.

On June 12th, we held a farewell party after Mass for Father Nonito, to say thank you and we will miss you.
We held our Parish Picnic on June 26th, this was the last really official event for Father Nonito as he prepared to move to a new parish that coming week.
Father Hanz is now our Parish Administrator and they both attended the picnic, with Father Nonito pulling the winning raffle tickets. Several of our Faith Formation students participated in working at the free kids' games we offered as well as helping with making cotton candy. Other students enjoyed seeing the inside of an ambulance and getting a ride on a stretcher.

Last Fall, Father Nonito and Father Hanz started having our students come up for a blessing at the end of mass, before class (held them after 9 AM Sunday Mass). The kids enjoy this and now it has become a blessing that is given the first Sunday of the month.
For the last couple of years, all those with birthdays that month are asked to come forward for a blessing and then all couples with an anniversary that month. Everyone, both parish members as well as the many visitors we have during the summer, enjoy this. As you can see, we had a fun and blessed summer.