August 30, 2022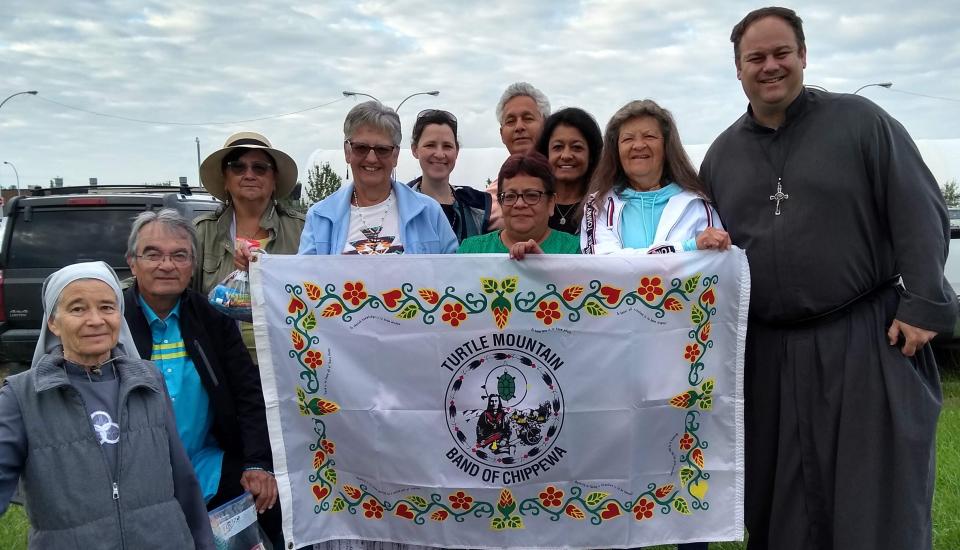 St. Ann's Indian Mission
---
In 2021, Pope Francis instituted the World Day for Grandparents and the Elderly, a celebration in line with traditions at St. Ann's Indian Mission on the Turtle Mountain Reservation.
This year's celebration on July 24 was extra special for St. Ann's parishioners as it coincided with the Pope's visit to Canada and the 138th St. Ann's Day celebration. On July 26, several parishioners attended the Papal Mass on St. Ann's feast day in Commonwealth Stadium in Edmonton, Canada. In a crowd of 40,000, the Holy Father honored the elderly of the First Nations, Inuit, and Metis People alongside St. Ann and St. Joachim, the grandparents of Jesus.
St. Ann's parishioners, who take pride in their long-standing devotion to Jesus' grandparents, saw the trip as a once in a lifetime opportunity to hear the Pope address their own people and to join in a larger celebration of their beloved saint.
Duane Gourneau, who grew up on the Reservation and regularly participates in the St. Ann's Day novena, recalls attending the Eucharistic procession, rosary, and outdoor mass, as early as age 10. He talked about the crowds who descended on the church grounds for the novena, spending the night in tents, and gathering in family groups for outdoor meals. This year, the feast of St. Ann created another powerful memory for Gourneau who joined a 12-hour caravan to see the Pope.
The magnitude of Pope Francis' decision to apologize for the Church's part in abuse, which took place in certain Catholic residential schools and the desire to witness this important, historic event, ultimately inspired Gourneau to attend.
Gourneau, who is a retired Social Worker and Mental Health Specialist, carried with him the tears and memories of individuals who shared their abuse stories with him over the years, and the weight of experiencing discrimination. He hoped to find deeper healing for his own experience and to bring with him the grief of others.
"What he said, how he said it, and the humility in what he said just brought me peace," Gourneau said. "I've reconciled with my past, but seeing the tears of others as I looked around the stadium and knowing it brought healing was so moving."
He acknowledged that individual experiences in Catholic boarding schools varied and that some had mediocre or very good memories, but for those who suffered abuse, he noted the importance of acknowledgement to bring healing.
"These things have happened and these apologies are important to hear," Gourneau said. "People will say that happened a long time ago or how does this matter anymore, but the Pope's words were powerful and needed to be heard."
Gourneau's words mirror the Pope's heartfelt statements on July 25 in Maskwacis, Canada during a smaller gathering centered on individuals who experienced abuse.
"I think back on the stories you told… of how the children were taken away from their homes at a young age, and how that indelibly affected relationships between parents and children, grandparents, and grandchildren," the Pope said. "To remember the devastating experiences that took place in the residential schools hurts, angers, causes pain, and yet it is necessary."
Gourneau also brought up a powerful lesson he learned as a Mental Health Specialist. "It is important to reconcile with the past so that anger doesn't consume you."
He prays for those who aren't ready for that step, knowing that healing is a process that can't be forced. Looking around the stadium that day, Gourneau felt that, "For those who were ready it was a blessing."
The wisdom of this Turtle Mountain elder is a further invitation to reflect on the Pope's words in Edmonton: "We are not isolated individuals, islands. No one comes into this world detached from others." These words contain an invitation to pray for healing and reconciliation for those elders still struggling with memories of abuse from long ago.
The Pope's words remind us to honor our ancestors in faith, to be grateful for the family traditions and cultural heritage we possess, and to pray for those who were prevented from passing on their traditions. In the words of Pope Francis' concluding prayer, "May Joachim and Anne intercede for us. May they help us to cherish the history that gave us life, and, for our part, to build a life-giving history. May they remind us of our spiritual duty to honor our grandparents and our elders, to treasure their presence among us in order to create a better future."
And in the words of Turtle Mountain parishioners, "Good St. Ann, pray for us!"