September 17, 2022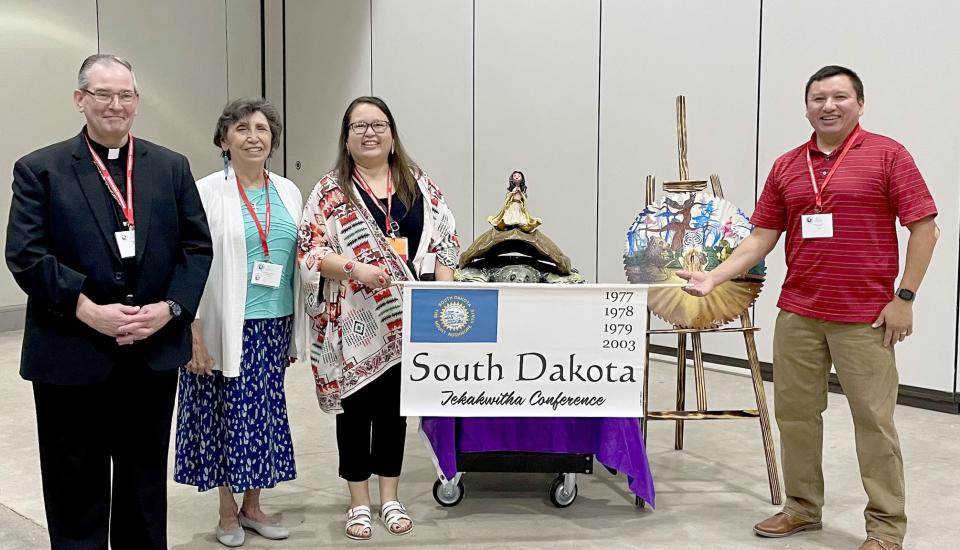 St. Francis Mission
---
A group of Diocese employees traveled to Alexandria, La, July 20-23, for the 83rd Annual Tekakwitha Conference. The Tekakwitha Conference is the voice, presence, and identity of Indigenous Catholics of North America under the protection and intercession of Saint Kateri Tekakwitha. Members of the Tekakwitha Conference inspired by Saint Kateri Tekakwitha, a young Mohawk/Algonquin woman of the 17th Century, renew their faith and reaffirm their baptismal call as followers of Jesus to proclaim the Good News.
The group included Jenny and Ben Black Bear, Germaine Little Bear, and Bishop Peter Muhich. Jenny and Ben Black Bear are deeply involved in St. Francis Mission which is a ministry of the Society of Jesus (the Jesuits) among the 20,000 Lakota (Sioux) people on the Rosebud Indian Reservation in south-central South Dakota. Jenny Black Bear was recently appointed to the Tekakwitha Conference Board as representative for Region 3 which includes the states of South Dakota, North Dakota, Kansas, Nebraska, Wyoming, Minnesota, and Montana. She also represents the Provinces of Alberta, Saskatchewan, and Manitoba in Canada. Germaine Little Bear is the Director of Native Ministry at the Diocese of Rapid City. Together, the group is working together to ensure the Diocese of Rapid City is meeting the spiritual and physical needs of local Native Americans who comprise 27% of the Catholic population in the diocese.
The following is an account from Jenny Black Bear:
During this trip, we met so many people and we were blessed to be able to participate. We were asked and honored to be able to help with a healing and reconciliation service one evening. Ben and I represented our Sicangu Lakota tribe, St. Francis Mission, the Diocese of Rapid City, and the state of South Dakota at this Conference. We were honored that Bishop Peter Muhich of our diocese was able to attend along with the Director of Native American Ministry, Germaine Little Bear. They also represented South Dakota.
We were so blessed to be able to meet and hear Jake Finkbonner and his mother Elsa's story. They shared the story of his recovery from necrotizing fasciitis and how family and friends prayed to Blessed Kateri for healing and her intercession. Jake's healing was the second miracle needed to elevate Blessed Kateri to sainthood in 2012. We also met three of the 2023 Conference committee members. The 2023 Conference will be held in Minneapolis, Minn., next year.
I am the chairperson for the youth planning committee for 2023. We accepted the Saint Kateri Statues and Relic for the next year. I look forward to working with all the region members, Tekakwitha board members, and the 2023 planning committee. I am very proud to be able to represent all Native people in my region.
Pilamaya ye, Thank you!