September 22, 2018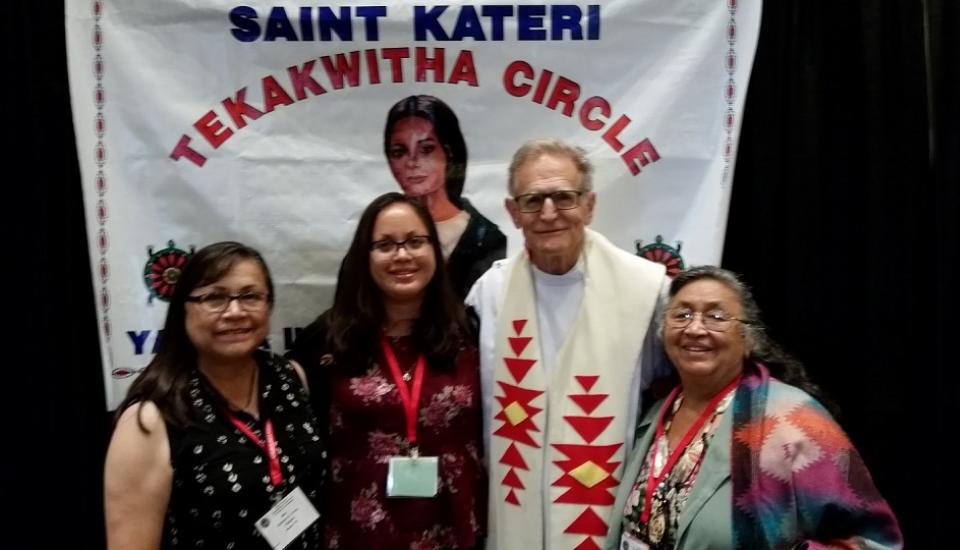 St. Kateri Mission in the Diocese of Santa Rosa
---
Erma Marshall was blessed with a wonderful Pilgrimage to the Annual Tekakwitha Conference. The Parish Finance Committee had funds set aside to subsidize Erma Marshall in a trip to the Annual Tekakwitha Conference to representing St. Kateri Mission in Hoopa California. In spite of considerable pain in her back, Erma made the pilgrimage. She returned beaming and spiritually uplifted; and shared with us the blessings that she received.

The Tekakwitha Conference is an annual event where Native American Catholics gather to celebrate their contribution to the Catholic Church. Archbishops, Bishops, Priests and Deacons, as well as Women Religious share in worship and cultural activities. The Parish asked Erma to pray for the growth and strength of our Mission Church. Erma met a new friend Erma at the conference, saw Bishop Soto as well as some beautiful banners.

The summer months brought some challenges to the Mission in the form of water leaks and a reduction of the grant amount. Maintenance included a replacement of the entryway carpet and substantial repairs of the rectory. The hall is currently full of rummage in expectation of our next fund-raiser. We are also planning a one day retreat late in the Fall.
We continue to be grateful for the priests who come to us: our parish priest, Father Francis Gayam, his associate, Fr Andrew Pacheco, as well as the retired priests who come regularly, Father Michael Cloney and Monsignor Gerard Brady.