July 16, 2021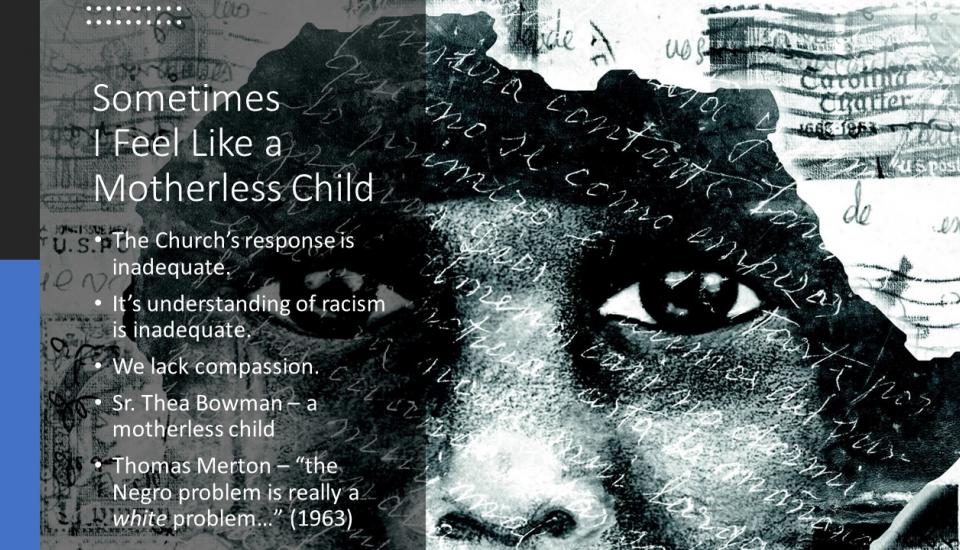 United States Catholic Mission Association
---
USCMA had a Meeting – January 18, 2021 – at 2 pm ET (1 pm CT, 12 pm MT, 11 am PT)
REGISTRATION was required. There was no cost for this meeting. It was be recorded.
Relying on the insights of Fr. Bryan Massingale, from his book Racial Justice and the Catholic Church (Orbis Books, 2010), we will explore the vision of the "beloved community," his definition of racism, and consider the call to action. How can we, as Catholics and as missionaries, recognize and take responsibility for racism?
The original intent for this meeting was to animate USCMA's efforts to implement, Open Wide Our Hearts, and to celebrate the life and legacy of Dr. Martin Luther King, Jr. Then, January 6, 2021. A year of grief and outrage over the deaths of George Floyd, Breanne Taylor, and many others, the passing of civil rights icon John Lewis, and the blatant attempt to "throw out" the votes of largely minority communities, adds urgency and relevancy to the call to confront racism.
Barbara Humphrey McCrabb and Don will facilitate the conversation focusing on the vision of the beloved community, a definition of racism, and ways to build a more inclusive church and society.
Barbara is the Assistant Director for Higher Education at the USCCB. She assists bishops and presidents of Catholic colleges and universities in promoting dialogue and collaboration for the advancement of Catholic higher education. She supports Catholic campus ministers in all institutional venues. Barbara convened the campus ministers from the Historic Black Colleges and Universities and organized a study of Fr. Massingale's book. Don is the Executive Director of the USCMA and was instrumental in organizing a collaborative effort with other national organizations to offer a series of webinars on Open Wide Our Hearts. Barbara and Don live in Washington, DC. They have three sons: Andrew, Jacob, and Martin.