July 12, 2022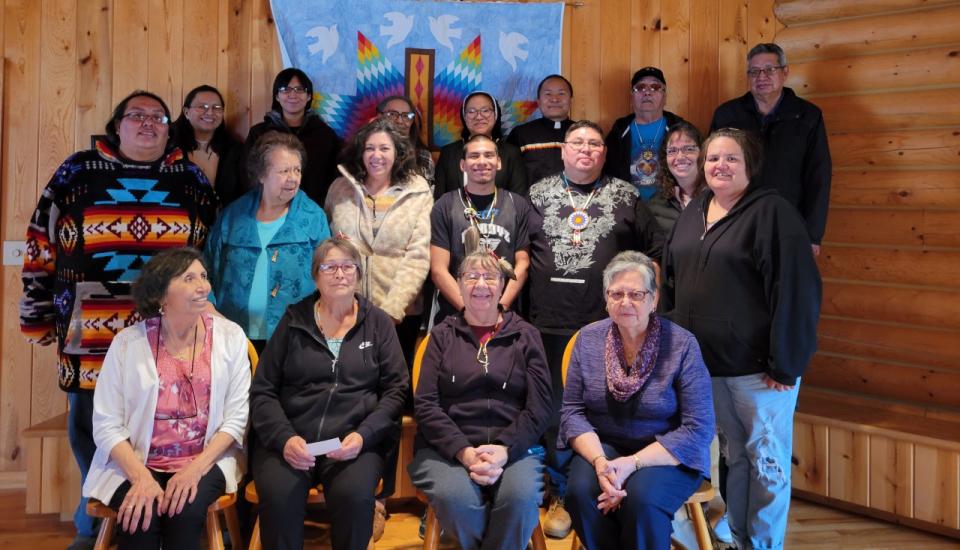 Office of Native Ministry
---
Each year, the Office of Native Ministry and the Sioux Spiritual Center host two Canku Wakan Retreats, which are four-day inculturated retreat experiences for Lakota Catholics in the diocese and other indigenous peoples nationwide. The weekend retreat is presented by Native lay spiritual leaders, Catholic priests, and Native Deacons. A series of talks are utilized, as well as Lakota ceremonies and rituals, and Catholic traditional practices. Two retreats are held annually in April and September at the Sioux Spiritual Center located in Howes, SD near the Cheyenne River Reservation. The retreat begins on Thursday evening and concludes Sunday early afternoon. The Canku Wakan weekend is a fun-filled time for Lakota Catholics to become reacquainted with the basics of Lakota and Catholic traditions by living and sharing for a short period of time as one family in Christ.
The Spring Canku Wakan Retreat was held at the Sioux Spiritual Center from April 21-24, 2022. It was a great success. Candidates from three of the Native American Reservations within the Diocese attended, three candidates from the Pine Ridge Reservation, two candidates from the Rosebud Reservation, and one candidate from the Standing Rock Reservation as well as three candidates from Rapid City. Some candidates traveled as far as 6 hours round trip to attend the retreat. Several team members made the retreat possible including three team members from the Standing Rock Reservation, two team members from the Pine Ridge Reservation, three team members from Rapid City, and one team member who provided the cooking and came all the way from Conway, South Carolina.
Activities included talks given by the Lakota team members, drum music by a devoted Lakota man from the Pine Ridge Reservation (who also was the only member on the prayer team due to the sickness of others who were scheduled), joking, sharing with others, making friends, and having lots of fun. An early morning Pipe Ceremony was held on Saturday morning, and everyone shared and participated in prayer and solemnity. It was a beautiful way to start the day.
Unfortunately, we were unable to hold the Inipi (Sweat Lodge) due to the drought that South Dakota has been experiencing. The fire danger was too high at the time. However, the candidates were still able to enjoy all of the other activities during the retreat.
A few pictures attached show one of the activities for which the candidates were asked to put into a picture what they had learned. There was a contest as to who best depicted the meanings of the talks that they had heard throughout the retreat. A traveling trophy was awarded to the winner. Everyone enjoyed expressing their artistic abilities.
All the candidates participated in the Lakota Rituals as well as all the Catholic Eucharistic celebrations. Everyone left with a desire to return. They expressed how much they enjoyed and benefited from the Lakota/Catholic Retreat.