December 01, 2022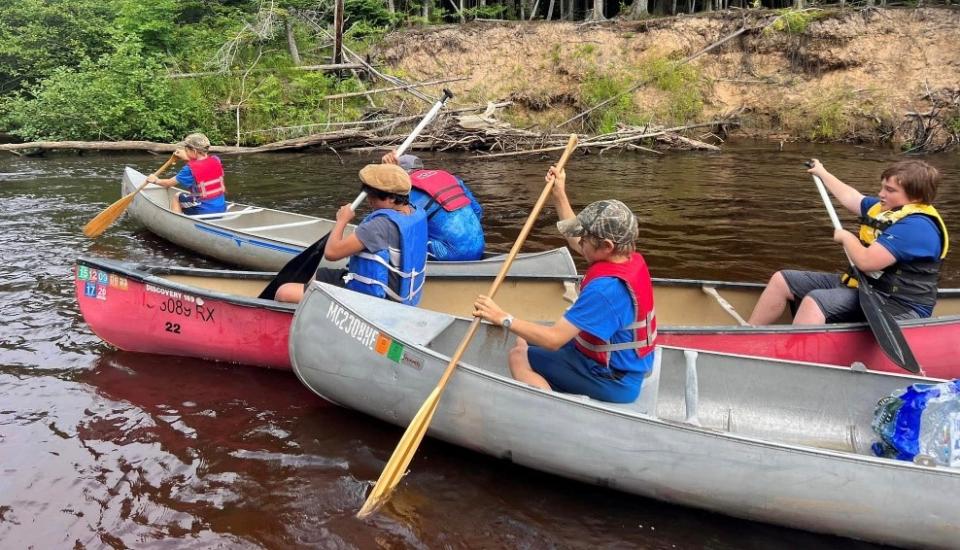 Sacred Heart and St. Ann's
---
The grant money received by Sacred Heart and St. Ann's was used to purchase 2 canoe trailers and several canoes for use by parish groups and for Fr. Corey's Baraga Youth Fraternity camping and canoeing events. They are available for use by any parish youth and adult group planning a canoeing event. Having canoes and trailers on hand really enhances outdoor evangelization events.
Every summer Fr. Corey takes a group of boys on a week-long retreat/camping trip to the Companions of the Lamb retreat center near Paradise, MI. This past summer he also started a girls retreat/camping trip as well. What a blessing it is to be able to provide canoes and trailers for these trips.
Below is a story written and posted on the BCCC website by one of the fathers who chaperoned the BYF camping trip that took place in August. Over 30 young boys and many fathers and chaperones also participated.

Fr. Corey Litzner and Mike Nelson led another amazing Baraga Youth Fraternity BYF camping trip this week. BYF started Monday with a trip to Kitch-iti-kipi Springs and Bishop Baraga's first mission in the U.P. located in Indian Lake where Fr. Corey celebrated Mass inside the chapel. We set up camp at Companions of Christ the Lamb in Paradise and had an amazing dinner provided by Mrs. Nelson and Mrs. LeMire. The next day we paddled down the Two Hearted River into Lake Superior and swam. Wednesday, we hiked from the Upper Tahquamenon Falls to the Lower falls and swam in the Lower Falls. We ended the day with a Eucharistic procession through the CCL property. Thursday, we packed up camp and headed to the Log Slide near Grand Marais and climbed, jumped or tumbled down the 500 ft sand dune to Lake Superior.
Every day we started with Latin Mass and a talk by one of the chaperones. We had an amazing time and made memories to last a lifetime. If you have a boy aged 11-16 that would like to attend next year, please contact the Parish office or message Fr. Corey. Thank you to CCL, Mike Nelson and the chaperones and especially to Mrs. Nelson and Mrs. LeMire for cooking all our meals!