August 18, 2022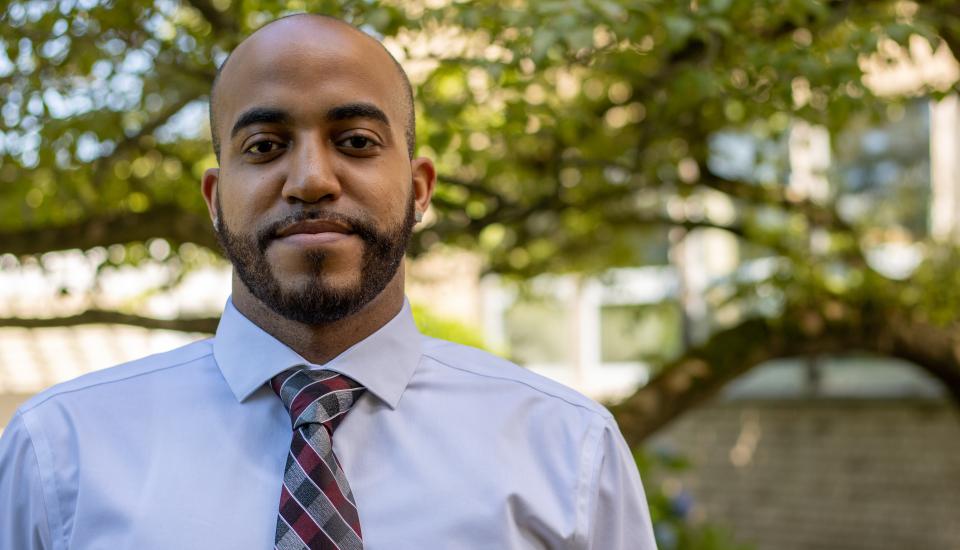 Cardinal Spellman High School
---
If you know Samir, you know that nothing has come to him easily; besides maybe basketball. Samir McDaniels, 29, grew up in a rough neighborhood in Dorchester, MA where he was the youngest of six kids. He attended New Mission Pilot School in Roxbury, MA where he says that he started out not taking school too seriously, until he was fortunate enough to find people who put him on the right path. He credits multiple mentors for instilling in him the value of school and hard work.

Samir was a standout basketball player with natural athleticism and the height to match. He was recruited to play Division Two Basketball for the University of New Haven, where he studied Criminal Justice with a focus on Law Enforcement Administration. His goal for a long time was to become a police officer. But as time went on and the state of our world shifted, Samir did not believe it was the best career path for him.

Luckily, he had experience in another field, working with kids. He had plenty of experience volunteering at camps and, with his maturity, got promoted at a young age to be a counselor. This role led him to ultimately serve as the director of the program. . As director, Samire created an education program for the kids who attended the camp because he realized that during the summer when kids have no educational stimulation, they lose a lot of progress. This created his love for working with youth and showed him that he could make a difference in kids' lives, just like his mentors had done for him.

Samir pursued this path and went on to receive his Master's in Education. Madison Park Technical became his first place of employment in the field of education after this degree. He started off as a paraprofessional, moved on to special education classrooms and then became the Dean of Students. In his role as Dean, he was responsible for the oversight of 1,200 high school age students. His background in Law Enforcement was vital in the discipline piece with the kids, but he also focused on education, coaching, and being someone the kids could confide in. He credits this style of teaching and administration for his success.

Samir soon decided it was time for a new challenge and a bigger step in his career. He applied for leadership roles at serveral Boston area school before chosing Cardinal Spellman as his next home. He relays the reason for choosing Spellman as the school spirit being a major factor. He felt that the students and faculty really loved where they were and it was a sense of school pride he hadn't seen since his own high school years.

McDaniels' new title is now 'Associate Head of School for Student Life' where he looks forward to being an ally to all students that walk through Spellman's doors. He wants all students to have the same opportunity and success he was given by mentors who showed him the importance of school. Coming from a tough neighborhood, Samir knows how hard it can be to understand the importance of education and he is determined to make a difference.

"Integrity, Accountability and Growth". The three things Samir explains that he stands on, and something he hopes to share with his students. He hopes that he can be an example for them and give them something to hold onto when they finally leave Spellman and to have a foundation to build off of for their future.

We would like to welcome Samir McDaniels as the newest member of the Administrative team at Cardinal Spellman High School. We know he has much to offer our students and look forward to witnessing his future success.