October 28, 2022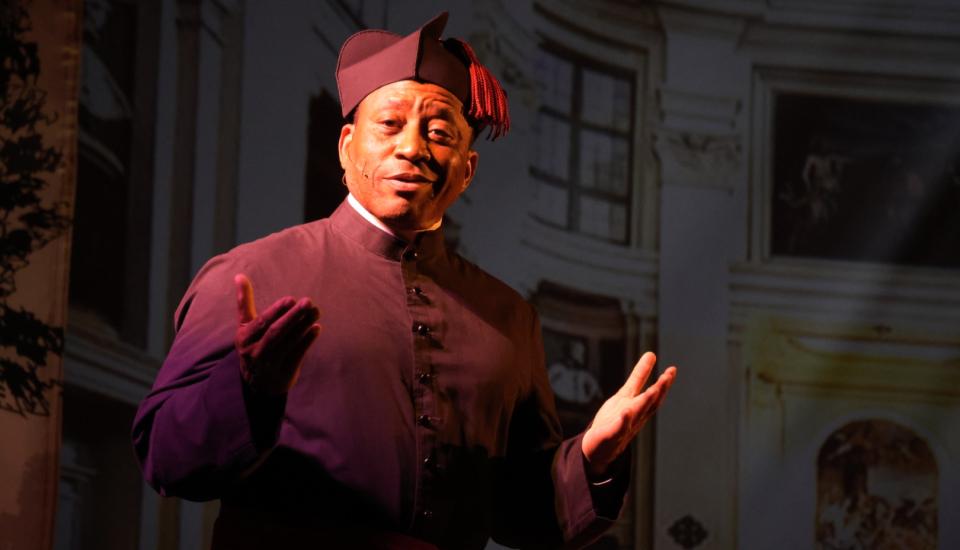 Cardinal Spellman High School
---
Cardinal Spellman was proud to host the theatrical one-man drama, Tolton: From Slave to Priest, performed by actor Jim Coleman and directed by Leonardo Defilippis of Saint Luke Productions. Students enjoyed an afternoon showing while parents, alumni and community members experienced the play in the evening.

Tolton: From Slave to Priest is a powerful new live production based on the life of Fr. Augustus Tolton, the first African American priest. This compelling true story of courage, forgiveness, and reconciliation resonates deeply with modern American audiences.
To characterize Fr. Augustus Tolton's life as remarkable is an understatement.
He was born a slave on a Missouri farm in 1854, and his mother risked everything to reach freedom in Illinois with her three small children. After settling in the town of Quincy, Illinois, the family continued to experience hardships and prejudice. In spite of this, he persevered in his deep desire to become a Catholic priest. When every seminary in the United States rejected him, Augustus did not give up, and he was finally ordained in Rome. Upon his return to Illinois, Fr. Tolton worked tirelessly to serve people of all races, especially the former slaves who flocked to Chicago. Fr. Tolton saw the Catholic Church as the antidote to the discrimination and rejection that he experienced in his own life.

At the young age of 43, Fr. Tolton died after collapsing from heat exhaustion in Chicago. Now his cause for sainthood is moving forward, as more and more people are beginning to recognize the humble perseverance, courage, and compassion of this extraordinary man.

Cardinal Spellman was a proud host of this riveting production, showcasing perseverance and inclusion to our community.