September 07, 2023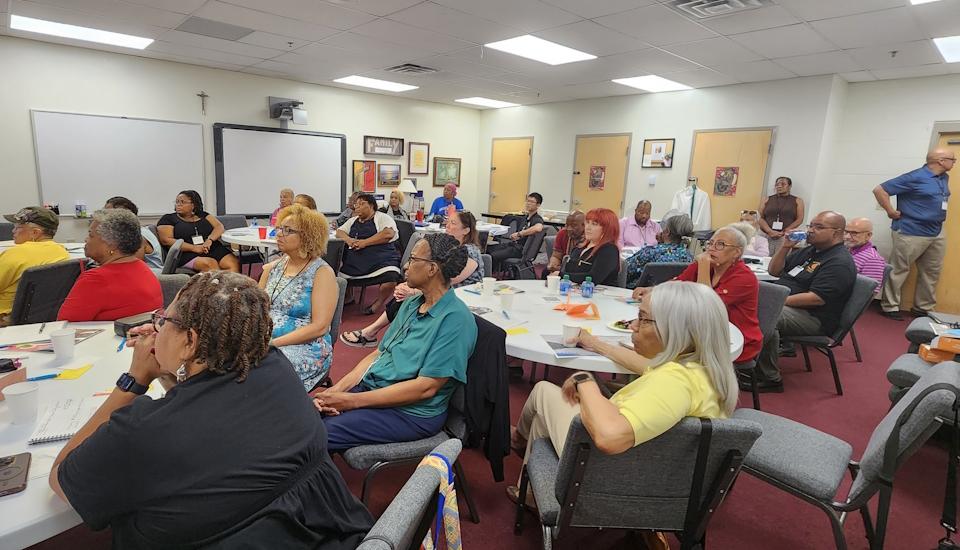 Black Catholic Affairs, Office of Intercultural Ministries
---
This summer around 35 delegates representing Archdiocese of Atlanta participated in July's Black Catholic Congress XIII in National Harbor, MD. The archdiocesan Black Catholic Affairs ministry held several sessions to prepare delegates to attend the gathering, including one final session on July 7, 2023.
The event was held at the Catholic Church of the Transfiguration in Marietta, Georgia. The theme of the session was taken from the Gospel of John 20:28, entitled "My Lord and My God! Tilling the Field for the Future." The session included talks from Mrs. L.B. Morris (L.B.M. Health Consulting, parishioner of Our Lady of Lourdes, Atlanta) on connecting one's health and wellness journey with one's faith journey, and from Deacon Chester Griffin (Our Lady of Lourdes, Atlanta) and Deacon Al Turner (Saint John Vianney, Lithia Springs) on abolishing the death penalty as a Right to Life issue. The day's session concluded with a Mass and commissioning celebrated by Fr. Desmond Drummer (pastor, Catholic Church of the Most Blessed Sacrament, Atlanta, and Saint Anthony of Padua, Atlanta) with Deacon Jerry Lett (Christ Our Hope Catholic Church, Lithonia) as the Deacon of the Word and the Eucharist.
In August, The Knights of Peter Claver Ladies Auxiliary, Court 313 hosted "Sojourning on the Road to Sainthood: To Promote and Raise Awareness of the Six African-American Candidates" at Saints Peter and Paul Catholic Church in Decatur, Georgia (Fr. Bryan Small, Pastor). The guest speaker for the event was Mr. Ralph Moore, parishioner of Saint Anne's Catholic Church in Baltimore, Maryland. Mr. Moore was recommended as a phenomenal speaker for the topic by Fr. Maurice Nutt, C.Ss.R., promoter of Servant of God Sr. Thea Bowman's Cause for Canonization. Mr. Moore's presentation also included a Q&A session facilitated by Mr. Ashley Morris, Director of Black Catholic Affairs of the Archdiocese of Atlanta, and a Living Rosary said prior to the conclusion of the event.
As always, these events and so much more were made possible from the support and prayers of our Black Catholic communities, as well as the resources from the Black and Indian Mission Office! We look forward to continuing to provide our communities with the tools needed to energize all evangelization efforts taking place in the Archdiocese of Atlanta for our vibrant and thriving Black communities!