March 12, 2020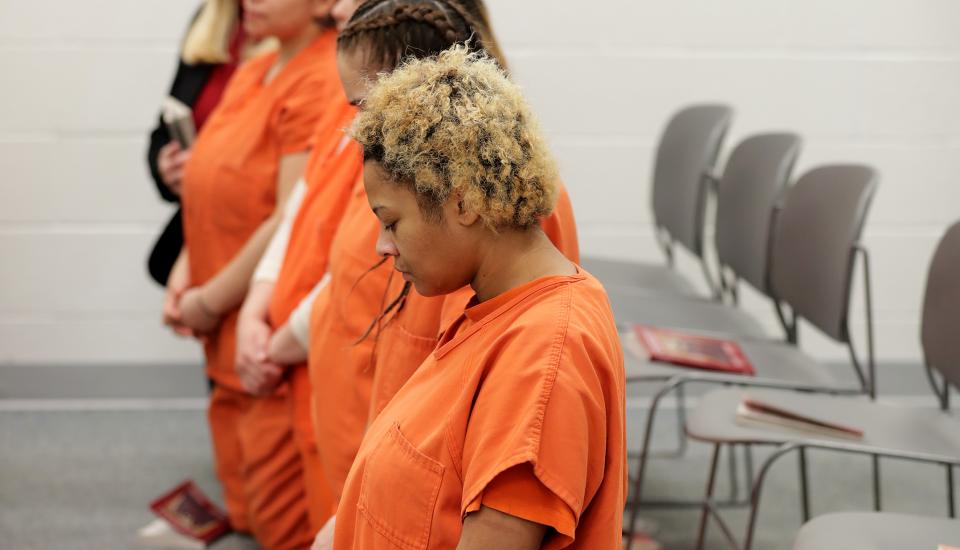 Prison Ministry
---
On Friday mornings at the David L. Moss Criminal Justice Center, Father Kenneth Harder and a small team of committed volunteers minister to inmates. Father Harder hears confession and celebrates Mass twice, once at 9 a.m. for female
inmates and again at 10 a.m. for male inmates. Approximately 10-30 inmates typically attend Mass and while many of them
are not Catholics, they come looking for guidance during a difficult time in their lives.
Before Mass, Father Harder and volunteers Charles and Sheila Michie from Christ the King in Tulsa, and Kitty Otterstrom of St. Benedict in Broken Arrow, visit with the inmates, explain the Mass, orient them to the Missal and offer their prayers and support. "This is an opportunity to experience and gain [an] understanding of the Catholic faith. We have a chance to give them a quick orientation and an opportunity to evangelize by answering questions about the faith," explained Charles.
One inmate who is Catholic, said that the Mass is very important in helping her faith while in jail. For another inmate, it was her
first time to attend a Catholic Mass, saying, "My friend asked me to come with her and I really liked it a lot. I think it is beautiful." 
Kitty has been volunteering with the ministry for over five years. "I cannot explain the joy I get when I come here and witness people coming to faith," she said. "There is a lot of healing that goes on in here. My hope and prayer is that when they get out of here, they find a place where the faith building that started here can continue."
 
-Story by Mason Beecroft, Photo by Dave Crenshaw