November 20, 2020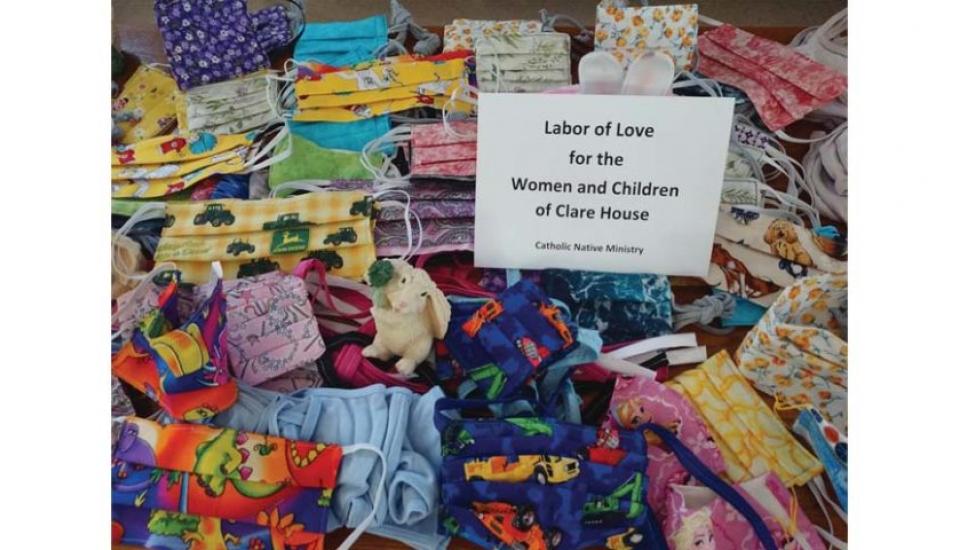 Catholic Native Ministry
---
Throughout the pandemic, Catholic Native Ministry's primary goal has been communication. This close-knit community began a group texting chat in March, where they shared prayer intentions and news of family or friends from the villages who were sick or deceased. Even though they were not able to gather for Mass for nearly 6 months, they continued to pray together and serve the community.

"Members of the Alaska Native Ministry in Anchorage, led by Sister Frances Vista, saw the need for masks in the villages and local shelters. Together women in the group have made hundreds of masks to donate to people in the community.
Marilyn Lokanin said Sister Frances first approached her and two other members of the group to make 21 masks for a family who was going to attend a funeral in a village to distribute to their family members. "Sister Frances wanted them made the next day," she said. So, each lady decided they would make seven masks. "We had them done with two hours to spare," Lokanin shared. After that first order, more started to come in and the women of the Alaska Native Ministry have been up to the task.
Lokanin said she was more than happy to assist Sister Frances since she already had the materials in her sewing room at home and has helped Sister Frances with sewing requests in the past. Renee Nicholson, a member of the group, said that her sewing experience came from making kuspuks, so she had many scraps that were good for making masks."
Read the rest of the story on masks here: http://www.catholicanchor.org/alaska-news/catholic-native-ministry-members-provide-masks-to-those-in-need/

The Archdiocese of Anchorage and the Diocese of Juneau merged to form the Archdiocese of Anchorage-Juneau, and this new entity was inaugurated at a special Mass in September. Members of both diocesan communities will continue addressing details of the merging process over the coming months and finding new ways to serve the Catholics throughout the newly formed region, especially Native Alaskans and rural parish communities.

In the fall, Catholic Native Ministry continued their support of AFACT (Anchorage Faith & Action Congregations Together) and VIA (Valley Interfaith Action) by addressing many initiatives on hot topics such as combatting racism and social justice issues relating to local ballot measures for the upcoming collection. They also held a forum on the local school board candidates.

Finally, Mass on the third Sunday of the month at St. Anthony Parish has been reinstated as "Native Mass," with the appropriate health precautions in place. Interestingly, the community who attends these Masses is different from the individuals and families who attend Mass at the Alaska Native Medical Center. The chapel on the hospital premises acts as a key evangelization opportunity to serve Catholics and Christians who are not Anchorage residents, but who happen to be in the Anchorage hospital for medical reasons.