December 02, 2020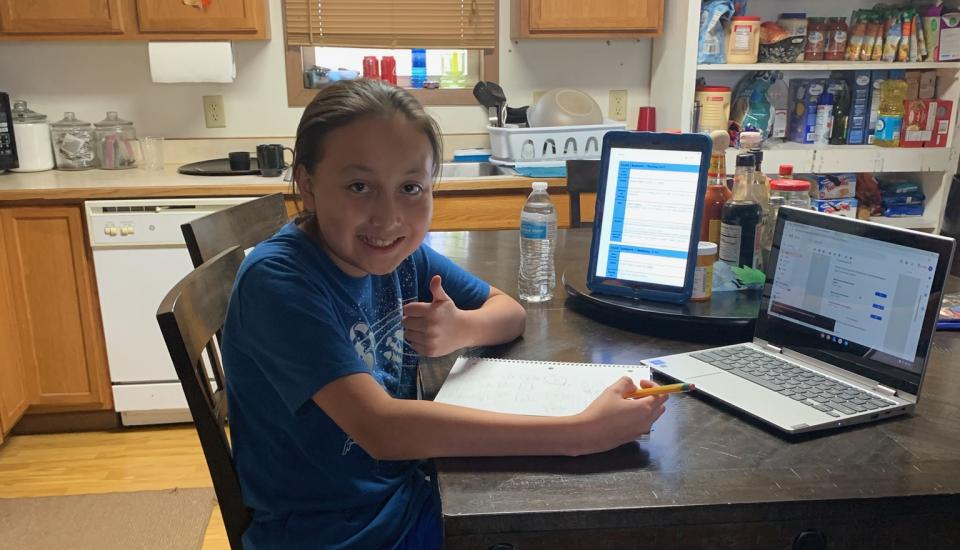 De La Salle Blackfeet School
---
De La Salle Blackfeet School began our preparations for the 2020-21 school year in the summer months. With the departure of our principal, Michael O'Brien, in June, the school created a new Leadership Team. The team prepared for all contingencies in our approach for returning in the fall: in-person, hybrid, and virtual learning. After interviews with parents and students, DLSBS decided to return in a completely virtual setting. The generous donations from individuals, organizations, and grants received allowed us to provide devices to each of our sixty students. For those with limited access to the internet, "jetpack" hotspot devices were provided to allow for a truly synchronous learning experience.
Each day Monday-Thursday the students log in at 9:30am to join their homeroom, continue throughout the day with classes for each subject; breaks are provided every half hour, time for social-emotional learning within their grade level is built in to the schedule; and lastly, individual tutoring sessions and homeroom activities wrap up the school day which concludes at 4pm. Fridays are set aside for one-on-one tutoring, professional development opportunities for the teaching staff, and a break from screen time.
Throughout the Fall, DLSBS has hosted virtual all-school masses live-streamed on Facebook for hundreds of participants. Students, parents, and community members all appreciated the opportunity to join together for these services. Just prior to the Thanksgiving Holiday break, our school invited the larger community to a curb-side pickup Thanksgiving Feed. We are certainly blessed with the opportunity to minister to the students and community. Our experience this year just goes to show that even though we cannot gather in the same space, we will always be together.