February 09, 2022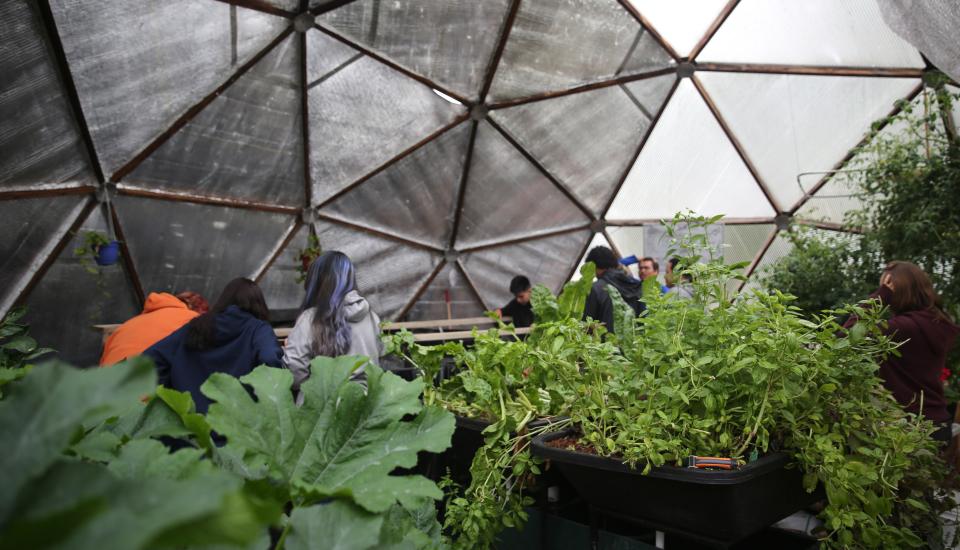 Red Cloud Indian School
---
Red Cloud's Farm-to-School Program and Food Sovereignty Initiatives are growing by leaps and bounds, with the goal of increasing students' knowledge of Indigenous methods of food production as a path to a deeper understanding of Lakȟóta culture. Red Cloud students inspire this program's work as they discover, cultivate, and provide the community with access to traditional Lakȟóta foods.

Red Cloud's Farm-to-School Program is our sustainable foods program, launched in 2019, that brings together good health and local food culture education for our students and the Pine Ridge community. By growing a variety of healthy produce and foods in our geodesic greenhouse, students are engaged in hands-on projects so they use what they learn to excel in biology, chemistry, and general science classes. We also just finished our second full cycle of year-round food production and offered fresh fruits and vegetables to our community—since there isn't a farmer's market on this side of our reservation we fill this service gap plus offer a cultural and community opportunity for people to gather and share what they are producing or making locally.

Red Cloud's Food Sovereignty Initiative advocates for healthy, traditional foods that not only once sustained the Lakȟóta people but also provided good health, generation after generation. Some of the plants that are native to this area, used medicinally and grow on the school's grounds include elderberries, roses from which rosehips and rose petals are harvested, mint, and chokecherries. The Food Sovereignty Program educates students' about their right to healthy and culturally appropriate food produced through ecologically sound and sustainable methods. Returning to and revitalizing our traditional agricultural methods increases students' knowledge of Lakȟóta food production and creates a path toward a deeper understanding of Lakȟóta culture. By investing in our own traditional, native-grown foods that have kept the Lakȟóta healthy for hundreds of years and as we grow and harvest crops on our own land, our goal is to move away from food insecurity toward "Making Traditional the New Normal."

Katie Chustak, Red Cloud's Food Sovereignty Director, has been teaching and organizing the programs since they began in 2019. She describes the market "as a beautiful community gathering around food." Despite the pandemic, the market has grown to include community vendors to offer more items available to purchase. This summer and fall, Red Cloud featured partners like Homegrown Pork & Poultry Meats and Thunder Valley CDC eggs, plus student and community farmers. The Farmers Market is also a venue for our four student interns to staff the Educational Opportunity Table that offers training to give them experience in running their own business. The market and students sell produce that includes broccoli, zucchini, summer squash, winter squash, tomatoes, cucumbers, basil, and peppers, plus salsa. "I think it's good for young people to be thinking about some opportunities for a safe, community event during the pandemic. The food can be grown here, purchased here, within the community and it's good for the earth. And it's healthy too." says Katie.

The market will be expanding as the season opens in late spring to include more vendors, an art project with Red Cloud's Heritage Center, and will add cooking demonstrations. Students and our community look forward to gathering at Red Cloud's Farmer's Market each week to discover the seasonal fresh produce available and have the opportunity to learn about and eat healthy foods.