November 27, 2020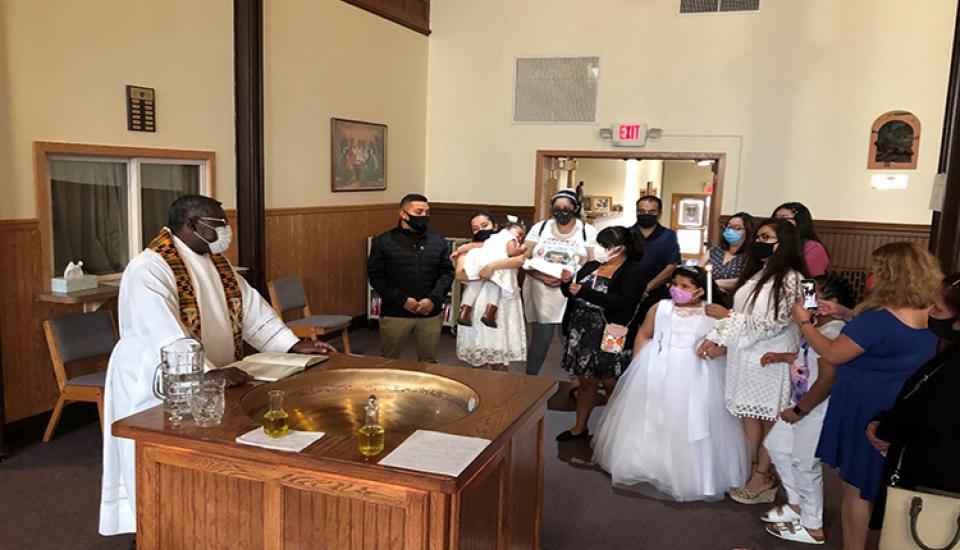 St. Martin de Porres
---
Title photo:
On Saturday, September 26, 2020, St Martin de Porres had a baptismal celebration at our church. This was a private baptism with members of one family. The reason it was private and not held on Sunday as part of our mass was because of the Covid Pandemic. This family is new to our church and were very understanding of the limitations. There were two little girls, sisters, ages 6 and 2. Their immediate family was in attendance. Our diocese has a Catholic Comeback matrix. One of the guidelines is there is to be no water in our baptismal font. We had water in a pitcher only for them. Our pastor made this celebration beautiful for this family. Although we were all wearing our masks and could not see the smiles underneath; everyone could feel the faith, love and importance of this celebration.
Photo 1
On Sunday, August 30, 2020 St. Martin de Porres had their celebration of Confirmation. We had three teens who received this Sacraments. Due to the Pandemic the usual service with all churches in our District with the Archbishop officiating was changed. The service was shared with our Pastor of both churches. To get to this Sacrament the teens had 6-month Confirmation classes with an overnight retreat. They also did service work. We did accomplish the program before the pandemic, so the teens were prepared. Our teens were a part of the mass as two of them were lectures and one played a meditation song. Our next ministry with these teens will be to have them continue with service work and to speak to the new class of teens starting in the 2021 Confirmation Class. And, always encouraging them to attend Mass regularly on Sundays.

Photo 2
On Sunday, September 13, 2020, SMdP has one of our teens speak to the parish. He is leaving for college at the end of the month. He spoke briefly about his new venture of leaving home and going off to college. The main reason he was asked to speak to the parish was to share yet another accomplishment of being chosen by our Archbishop to receive the Vatican II Award for Service to the Church for the John Paul Youth Award. This award was established in 1991 to honor men, women and young adults who exemplify the Catholic Church's vision set forth in the Second Vatican Council. This teen has been an exemplary example for all the youth in our parish. He has done several different ministries at SMdP growing up. He served as an altar server, assisted with the summer Vacation Bible School for several years and he assisted with the Giving Tree gift distributions to our children in our parish at Christmas and many other ministries. He is a wonderful example of a young man growing up in our parish. May God continue to bless him!

Photo 3
On September 15 and 17, 2020 our pastor and a member of our parish visited two patriciachs of our parish. These two faithful men are both staying at home because of their illinesses. They had a visit with them and our pastor gave them annointing of the sick and administered communion to them. They both were very happy for the visit. They had good conversation and were caught up on the happenings of our parish. We expressed to both of them that they are missed very much. The overall visit shows how just a short thoughtful visit can bring great joy to the homebound. There was love and laughter shared even if only for a short while.

Photo 4
On October 27th we had a RCIA Zoom meeting/class for the adults preparing for full initiation into the Catholic Faith. These classes are every Tuesday and started in September 2020 and conclude in February or March. We use the Liguori publications of Journey of Faith. There are subjects regarding the Inquiry period, Catechumenate period and the Enlightenment period. Usually we have two subjects each week. The structure of these classes is we ask all candidates to read and study the assigned classes in advance and the night of the class we have a "leader" to direct conversation and to do an overview and then we have a question and answer time. We have reflection from anyone who would like to share what the lesson meant to them. In normal times we have these classes in our church halls but due to the Covid Pandemic we are having Zoom meeting with the same type of format. It is working well.